We are the flooring industry's top specialist in moisture vapor mitigation for new concrete slab construction. Our MVRA 900 admixture is used by strategic partners Arcosa Aggregates to make Assurance LWC, and by Full Force by ABC Polymers to make DuraForce(v-). It has also earned an Environmental Product Declaration (EPD), as well as the trust and loyalty of many architects, specifiers, contractors, owners, and concrete professionals across the U.S. for its proven, 100% RH-warranted performance.
ISE Logik has experienced concrete and construction professionals to consult and guide you in the specification, application, and use of our Moisture Vapor Reduction Admixtures (MVRA). We also have Strategic Partnerships with some of the most respected concrete names in the business for additional capabilities and products.
ISE Logik products are produced under the most exacting chemical manufacturing processes available with a focus on responsible raw material sourcing and manufacturing to promote the health of our planet. See our
Sustainability page
for more details on ISE Logik transparency and accountability.
For over 35 years, our state-of- the-art chemical manufacturing facility has been blending specialty chemical admixtures for cementitious products. ISE Logik is also fully equipped to provide you with everything you need to know about controlling vapor transmission, from
webinars
to brochures to presentations.
ISE stands for "Interiors, Surfaces and Environment" and has been dedicated to Lean Construction practices and the freedom from the costly dependence of concrete moisture testing as a standard building protocol since the company's beginning. Founders David Seland and Dean Craft bring a combined 50 years of experience in the construction products and application industries. They and the entire ISE Logik team provide an unsurpassed base of knowledge and experience for overcoming the challenges of concrete moisture in flooring and roofing systems.
ISE Logik is also a leader in educating the industry through webinars and articles; as well as participating on various ASTM committees for establishing standards and best practices in roofing, flooring, and waterproofing.
We Belong to and Support the Best
World Floor Covering Association
International Certified Flooring Installers
The Flooring Contractors Association
Construction Specifiers Institute
Single Ply Roofing Systems
Architects, Engineers, Construction
It is an on-going participant and presenter of:
American Training Solutions
The Flooring Contractors Association
The Flooring Contractors Association
We are here to help architects, specifiers, general contractors, concrete flooring and roofing contractors, and installers have successful time and money-saving installations over concrete anywhere in the U.S. with a top team of sales representatives. Contact ISE Logik today for your next project.
Our Leadership Makes the Difference
On the left is a concrete slab without ISE Logik MVRA 900, allowing moisture emissions and alkalis to reach the surface. On the right is concrete dosed with MVRA 900 that restricts the capillaries in the concrete to prevent compromising the flooring installed on the surface.
We are pleased to announce the completion of our Life Cycle Assessment study* for our MVRA 900 product and have earned the Environmental Product Declaration (EPD).This is the first, and only, concrete moisture vapor emission control product warranted to 100% RH to qualify for and receive an EPD. Learn more here.
All ISE Logik products carry Health Product Declaration (HPD) labeling.
For new concrete, ISE Logik admixtures are formulated to stop moisture migration and warranted to 100% RH with no moisture testing required.
Our products admixture are listed as Construction Products—Building Products Category in Division 3 (Concrete) and Division 9 (Finishes-Flooring).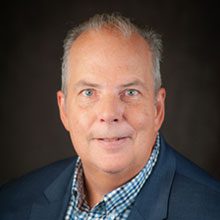 Principal and Founder of ISE Logik
David is the Chairman and CEO of ISE Logik. Over the past 35 years, he has worked in a
wide range of positions in the building products industry, including:
Flooring contractor understanding floorcoverings, coatings, and substrate
Technical expert with Shaw Industries
Top independent building products failure analyst
David has directed over 5,000 on site field inspections throughout the Americas
for product manufacturers, project owners, and construction managers.
He founded ISE Logik in 2014 and has spent countless hours serving the industry by writing
articles and teaching about the importance of being proactive in controlling moisture vapor
in concrete.
DBA, CSI, CDT, CCCA, ASTM, ACI Lt Col USMCR (ret.)
Dean is the president and COO of ISE Logik. Dean has presented more than 2000 times on how to proactively address concrete moisture in the design phase. He completed his doctoral work in 2017 with a dissertation entitled "Fallacy of Current Industry Approach to Assessing Concrete Moisture Before Flooring Installation." Dean is also:
Principal author and technical chair of ASTM F3191 – 16: "Standard Practice for Field Determination of Substrate Water Absorption (Porosity) for Substrates to Receive Resilient Flooring."
A voting or participating member of the ASTM Committee D08 on Roofing and Waterproofing, ASTM Committee F06 on Resilient Floor Coverings, American Concrete Institute, Single Ply Roofing Systems (SPRI), and National Ready-Mix Concrete Association Research, Engineering & Standards Committee.
ASTM F6 principal author and technical chair for two ASTMs
Dean is a retired, U.S. Marine Corps Lieutenant Colonel with 23-years of total service;
and graduate of the United States Naval Academy (BS), the Naval Postgraduate School (MS),
and California Intercontinental University (DBA; Doctorate in Global Leadership).